CNN Travel Says Belize Is Where To Travel In 2023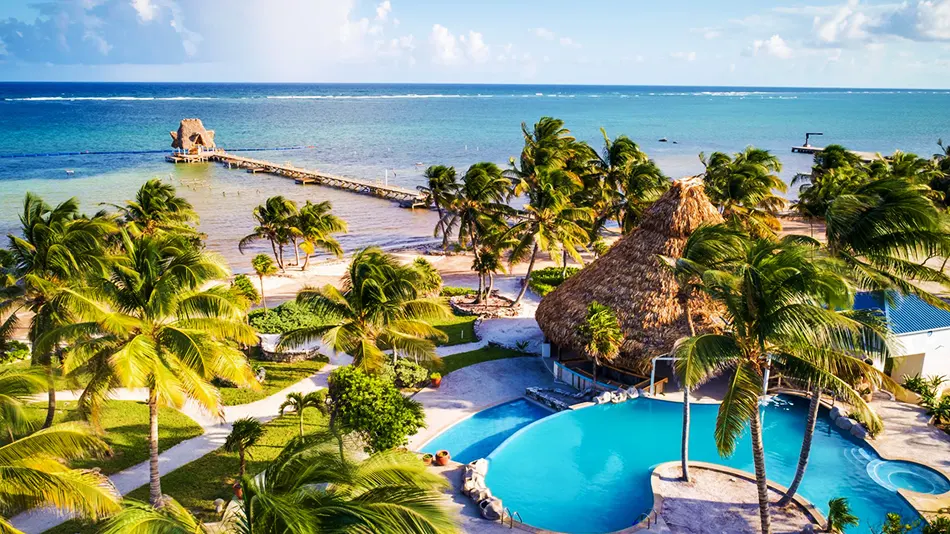 CNN Travel listed Belize among the top 23 destinations to visit this year – for many reasons.
"With direct flights to Belize City from about a dozen North American airports, this Central American country is a low-hassle hop for many travelers during the November to April high season.

"Most visitors head directly to Belize's Caribbean coastline. The country's largest island, Ambergris Caye, sits next to Belize Barrier Reef — the world's second largest coral reef system. Margaritaville Beach Resort is set to open on the island in early 2023, and "eco-luxury" resort Alaia Belize opened in 2021. Farther south, the Great Blue Hole — a massive underwater sinkhole – is an aquatic magnet for both scuba divers and aerial photographers. But Belize offers way more than its enticing islands."
Toronto Sun features Belize in an extensive blog by Chris Doucette titled, "UN-BELIZE-ABLE: Jewel of the Caribbean- a Romantic Getaway for the Adventurous." Doucette detailed his stay in Mountain Pine Ridge, Hopkins, and San Pedro with his wife. He also recounts their activities, which included exploring Barton Creek Cave, snorkeling the Belize Barrier Reef, and island-hopping. He recommended Belize as a top destination for couples! Read more about Chris and his wife's experience in Belize! Read More
Elle Magazine Discovers Belize – Women's Fashion Magazine Elle features an interesting article sponsored by the Belize government and participating Belize resorts in its 11 November online issue:
"If you need an escape, might we humbly suggest Belize? Located on the east coast of Central America, nestled against the Caribbean Sea, you'll find the sparsely populated country—the only one without a coastline on the Pacific Ocean. The scenery is a given, but there's so much, much more. Though Belize is still quite young, having only celebrated 40 years of independence in September, it's a place to experience. Minutes upon arrival, you'll find yourself immersed in a culture that is ancient, flavorful, and so very vibrant.
"As a whole, the country is casual and laidback. You can skip out on packing your fancier belongings and instead fill your itinerary with a mix of adventure and rejuvenation. Spelunking and a spa day? We're talking mind, body, and soul. Adrenaline junkies and nature lovers can faun over zip-lining excursions or visit 1,000 Foot Falls. More interested in people-watching? Hit Placencia's legendarily tiny main street and the annual sidewalk art festival. Foodies, brace yourselves. Dive into Miss Bertha's tamales, Dario's meat pies, and—oh boy—Marie Sharp's hot sauces. There's truly something for everyone, and there are practical reasons to visit, too. English is the first language, for starters. One U.S. dollar is worth two Belizean, so talk about bang for your buck. And they've banned single-use plastics, which is certainly something to celebrate." More
Belize Voted As One Of The Friendliest Countries In The World by travel magazine Condé Nast Traveller in its reader's choice for the friendliest countries in the world: 2022 Readers' Choice Awards. "Described by educator and civil advocate Sebastian Cayetano as the melting pot of Central America, Belize is a country with a rich and variety of cultures, traditions and histories. Many visitors take advantage of the perfect snorkelling surrounds, heading to Belize Barrier Reef to see the coral garden, head underground to explore the caves, dripping with flora and fauna, or pay a visit to Hopkins Village, on the coast of the Stann Creek District, where you'll be able to see cassava bread being made (it takes two days to prepare) and hike the waterfalls at Bocawina National Park."
Qatar, Belize Sign Air Services Agreement – Qatar Minister of Transport H.E. Jassim Saif Ahmed Al-Sulait and Belize's Minister of Economy and Civil Aviation Hon. Andre Perez signed an air services agreement 11 October 2022, which comes in the context of connecting Qatar with more agreements that open airspaces for the national carrier to fly to more destinations around the world.After the signing ceremony, the two ministers reviewed ways to develop Qatar- Belize relations in the fields of civil aviation and transportation services.
Belize is featured in Ensemble Vacations Fall 2022 Magazine, one of Canada's affluent Consortia having a readership of over 100,000. Vanessa Dewson, Travel Advisor & Photography Tour Specialist wrote about her experience while in Belize on our Adventure + Sustainability FAM in April 2022. This four-page spread can be found on page 32. "Exploring the rich culture, ancient temples, toucans and tasty traditional cuisine of the Central American country with so much to offer. At first I though it was a monkey stealing chunks of fruit left out for the birds at the crack of dawn but as I got closer, I saw it was a coati – a relative of the racoon with reddish-brown fur and a much longer tail and pointer snout than its cousin. As soon as it sense my presence it jumped unto the nearest palm tree and scurried down the trunk. The fruit left out every morning next to the open-air restaurant of my hotel in western Belize attracted not just coati but also toucans, motmots and other beautiful tropical birds.
Football Federation of Belize rebrands the National Amateur Beach soccer league under the name Travel Belize Beach Soccer Cup
The Football Federation of Belize in collaboration with the Belize Tourism Board announced the launch of the Travel Belize Beach Soccer Cup. It kicks off 8 October 2022 in Hopkins Village. The Travel Belize Beach Soccer Cup is FFB 's premier event for Beach soccer clubs and showcases the best talent from across the country of Belize. This tournament 'will serve as an opportunity to recruit players for the 2023 National Beach Soccer tournament. The Travel Belize Beach Soccer Cup is scheduled to run for seven weeks in round robin format, with the top four teams advancing to semi finals and finals .
On 12 September 2022, on CTV News Ottawa in Canada, personal finance and travel expert Barry Choi appeared on the show sharing budget-friendly travel tips for the winter season. In this interview, Choi highlights Belize as a bucket-list-worthy destination for Canadians to travel. He talks about several amenities, such as snorkeling, cave tubing, and ziplining. He also mentions Belize as an English-speaking country with a low population density, which is perfect for travelers to get around easily.Click the link to check out this segment: https://ottawa.ctvnews.ca/video?clipId=2518674
Great news! Starting March 2023, Southwest Airlines will expand its non-stop service from Denver to Belize to Saturdays and Sundays. Southwest started flying to Belize from Denver in early 2017. The airline also offers a daily non-stop service from Hobby International Airport in Houston to Belize.
Travel Agents are being rewarded by the Belize government with free trips for themselves when they book trips for their customers during the tourism low season August-October. Under the heading "It's the Perfect Time to Book Belize – And Earn Rewards for Free Trips" Travel Agent Central reports: "With only two seasons – wet and dry – Belize basks in delightful tropical warmth all year round. This means most of our North American friends flock to Belize during the cold, wintry months. While December to February may be the region's peak season for this reason, the fall is quite the sweet spot, too. When your clients head to Belize between August and October, they'll see there's so much to take advantage of including gorgeous weather and discounted stays. As a travel agent, now is also the perfect time to take advantage of booking your clients for a trip to Belize. That's because you can now enroll in the UnBelizeable Rewards Program and get a chance to experience the destination for yourself!
"In this small Central American country –about the size of Massachusetts for reference –visitors will find gorgeous natural sceneries. Miles of beautiful beaches are spread against the Caribbean Sea, dotted with cayes and atolls. A vast network of national parks and wildlife sanctuaries brim with exotic species – such as spider monkeys, bright green iguanas, peccaries, over 500 species of birds and even the occasional jaguar. Add to that a generous sprinkling of Maya sites to round out the experience, and there's something to see or do every day and night of your stay. Best of all, visitors will meet warm-hearted people, representing a mixture of nationalities that range from Latino and Creole to Garifuna and Maya."
Belize celebrates the 224th anniversary of the Battle of St. George's Caye "Valiant and Bold, Proud and Strong! Belize Rebounds @ 41," is the selected theme for this year's September celebrations, and undertones of this theme were resonant at the ceremony marking the 224th anniversary of the Battle of St. George's Caye, which took place at the Memorial Park in Belize City and was attended by various members of government as well as members of the diplomatic corps. Francis Fonseca, Chairman of the National Celebrations Committee, highlighted Belize's cultural diversity and noted that we must be able to protect and preserve our history and culture. "Belize's society is a beautifully intricately woven tapestry of cultural diversity. We must work to protect and preserve that history and culture, where it is worthy of protection and preservation. This means that we must be willing to question and challenge cultural and historic norms which have been passed on to us by colonizers. In the words of Fanon, imperialism leaves behind germs of rot, which we must clinically detect and remove from our land and from our minds as well," he said. See more at this link: https://amandala.com.bz/news/belize-celebrates-the-224th-anniversary-of-the-battle-of-st-georges-caye/