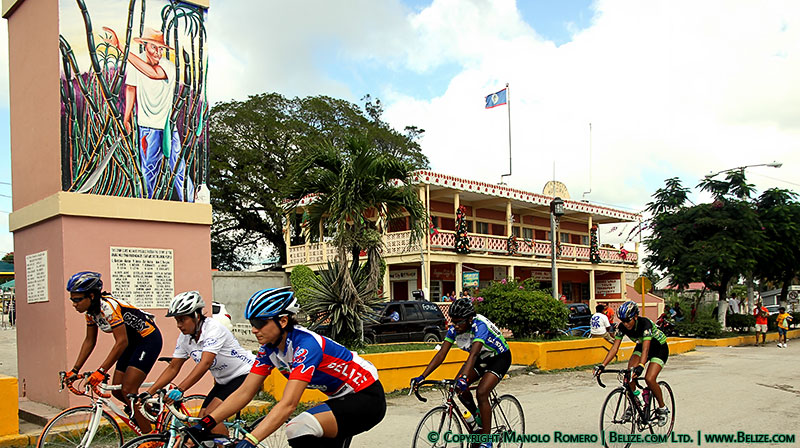 It's affectionately called " Sugar City ". Located about 55 miles north along the northern Highway, Orange Walk is a drive of about 65 minutes from Belize City . It is an easy 30 mile drive to Corozal Town. The country's only tollbooth signals the entrance to Orange Walk Town, and after paying the small toll of about US. 50 cents, one immediately notices two distinctive sites: the scenic New River with tour guide operators hugging its banks and the smokestacks of the sugar mill. Sugar, though, no longer reigns supreme in Orange Walk. In addition to the economic boost from eco tourism, there has been agricultural diversification in recent years. This has seen the recent introduction of fields of soybean, onions and papayas as cash crops. The Orange Walk district is also well known for its cattle and rum production.
The Orange Walk District, with a population of just over forty thousand, is the country's third largest populated district and is much more than sugar, soybean and honey country. Orange Walk provides exotic places to visit. The sights and sounds of nature abound here, either at the famous Mayan ruins of Lamanai and Cuello, or at various places along the New River for the jungle river adventurer. And, with over 400 species of birds recorded in this district, more so than anywhere else in the country, the Orange Walk District is truly a birder's paradise. Orange Walk District includes the he Rio Bravo Conservation and Management Area, a large private nature reserve.
And, of course, if one wants to continue further north after enjoying Orange Walk, 30 miles away is the border town of Corozal and the Free Zone.
Other towns and significant villages in Orange Walk District include August Pine Ridge Village, Blue Creek Village, Carmelita Village, Chan Chich Village, Chan Pine Ridge, Douglas Village, Fire Burn Village, Guinea Grass Village, Honey Camp Village, Indian Church Village, Indian Creek Village, Indian Hill Estate Village, Petville Village, Richmond Hill Village, San Antonio Village, San Carlos Village, San Estevan Village, San Felipe Village, San José Village, San José Palmar, San Juan Village, San Lorenzo Village. And San Lázaro Village, San Luis Village, San Pablo Village, San Román Village, Santa Cruz Village, Santa Marta Village, Shipyard Village, Sylvestre Camp Village,Tower Hill Village, Tres Leguas Village, Trial Farm Village, Trinidad Village, Yo Creek Village.
Lamanai Maya Ruins
The Mayan ruins of Lamanai are located in a two-square mile area at the edge of a lush forest reserve. Reaching the ruins is an excursion in itself; the preferred route is to travel by boat up the New River for about an hour and a half. Blooming orchids and other flowers are abundant along the bank, as are many birds and animals, including a throvong population of howler monkeys.
The boat trip begins near the highway, past the toll booth and many qualified and friendly guides are available. If reaching Lamanai by vehicle, one travels for and a hour and a quarter from Orange Walk, winding through the villages of Yo Creek and San Felipe. Lamanai is believed to have been occupied from approximately 1500 BC through 1650 AD. It was still inhabited when the Spanish arrived in the 16 the century. Archeologists believe that Lamanai's main temple was built around 100 BC.
Lamanai translates to "submerged crocodile". Records kept by Spanish missionaries indicate that Lamanai was probably the name of the ancient city. Many artifacts depicting crocodiles have been found at the site. Lamanai has one of the tallest buildings found in the Mayan world (112 feet) and the views from the top are breathtaking. Several hundred buildings have been uncovered, as well as royal ball courts. Lamanai is one of the most important Mayan sites in Belize . On your vigorous climb to the top of the ruins, you will see a variety of flora and fauna; of particular note is the strangler fig tree which engulfs cohune palms; while this destroys the cohune tree, it becomes a habitat for thriving bird life.
Tours of Lamanai can be arranged by local travel agencies or your hotel.
Bird watching
With its unusually diverse habitats, the Lamanai area is a must for professional ornithologists or casual bird watchers. 366 bird species have been recorded at Lamanai, and this figure is expected to reach 409 shortly. The uncommon nocturnal Yucatan nightjars, as well as the long-tailed hermit hummingbird, have been spotted at the Lamanai Outpost lodge.
Cruising the New River by boat to the Lamanai ruins is also a birder's paradise. The waterway teems with bird life. Rare birds abound, like the roseate spoonbills, sun grebes and long-necked anhingas. Near the mouth of the lagoon is a large ceiba tree with a huge nest, home to a five-foot jabiru stork, the largest bird in the country which has a nine-foot wingspan.
The non profit organisation Program for Belize, with over 400 recorded species in its protected area offers world class birding. "A Field Guide to the Birds of Belize" by Jones and Gardner will help visitors familiarize themselves with many of the species to be seen. The Gallon Jug Conservation Society, the Belize Audubon Society, the Lamanai Field Research Center or any of the lodges mentioned here also appreciate field notes from visitors who record rare, unexpected sightings. Near Orange Walk Town is the Crooked Tree Wildlife Sanctuary which is home to many species of bird life, including herons, egrets and the famous Jabiru stork.