Picture: Left to right: Prince Michael of Kent, Prime Minister George Price, and Governor General Dr. Dame Minita Gordon in Belmopan at Belize Independence Day.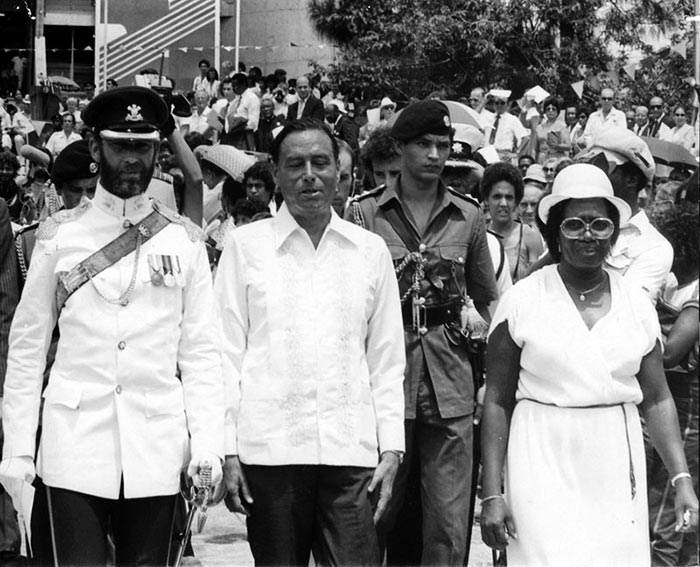 Irene Escalante Price, mother of Rt. Hon. George Price.
Above: George Price and siblings in Belize City at age ten.
Mr. Price loved to tour the country no matter how inaccessible the area may have been. Here he greets a young Belizean on the banks of Progresso Lagoon.
Above: George Price at church in Mexico city in 1964. Mr. Price attended mass or church every day no matter where his travels took him.
In 2006 the Belize Post Office issued a commemorative stamp to honor the 25th anniversary of Belize's 25th Independence. The stamp features a depiction of Mr. George Price and the Belize Flag in the background.
From left to right: People's United Party leader John Briceno, Rt. Hon. George Price, former PUP party leader and Prime Minister Said Musa at Independence Hall celebrating Mr. Price's 92nd birthday
The Right Honourable George Cadle Price, was born on January 15, 1919 at the Price Family Home at number 3 Pickstock Street in Belize City which was to remain his home until his death on 19 September 2011 – three day's short of the 30th Anniversary of Belize's Independence – his crowning achievement. Mr. Price is one of the founders of the People's United Party and the architect of the country's independence, and is referred to as the Father of the Nation.
He was the third of 10 children born to William and Irene Price née Escalante.
Price was began his education as an infant at St. Catherine's Academy in Belize city. His primary school education was at Holy Redeemer Primary School, from where he proceeded to St. John's College in Belize City, As a first year student at this institution and and in his own words, he escaped death three times in 1931 when a hurricane destroyed the school where he was a boarder, and much of Belize City.
In an interview in 2011 he related that after the storm first hit, he managed to flee the collapsed building where he was in and sought refuge behind a sea wall. During the lull as the eye of the hurricane passed, he and a few fellow students fled to the central area of Belize City and sought refuge in a wooden house. He managed to get out just before the Methodist Church collapsed on top of this house and clad only in his underclothes swam through Albert Street (down town Belize City), where family friends took him into a house and eventually returned him to his family.
Being inspired by the work of the Jesuits in Belize, he determined at age 16 to become a Jesuit priest.
He continued his education at the Jesuit Minor Seminary at St. Augustine, Missouri U.S.A., and thereafter at the Major Seminary in Guatemala city. The next and final chapter of his education was to be in Rome, but because of the war he was unable to travel there. His father's deteriorating health compelled him to seek work to help support his family. In Belize, a family friend found him a job as secretary and translator with Belize Mahogany and chicle magnate Robert Sidney Turton.
His studies at the Jesuit Seminaries exposed him to the teachings of Catholic social justice, in particular the encyclical Rerum Novarum.
Mr. Price entered politics with his first election in 1944 where he was pressed to enter the race for the Belize Town Board three days before the election by Mr. Fred Westby, through his employer at the time Robert Sidney Turton. He lost. He ran and won in 1947 with his election to the Belize City Town Board.
Three years later, on September 29, 1950, he cofounded the People's United Party along with John Smith, Leigh Richardson, Nicholas Pollard and Philip Goldson, which he led for four decades and which was devoted to the political and economic independence of the British colony, then known as British Honduras.
With the formation of the PUP, Price's stature rose and he ascended through the party ranks until he became Party Leader following a leadership dispute in 1956. Elected to the colony's Legislative Council in 1954, he also served as mayor of Belize City from 1956 to 1962.
As First Minister, a post he held since 1961, he led the team which began negotiations over independence with Great Britain. He maintained that post as Premier in 1964. In 1981 Belize gained its independence, and Price served as the country's first prime minister and foreign minister until 1984.
After the PUP's defeat in the elections by the United Democratic Party under Sir Manuel Esquivel, he resumed the post of prime minister in 1989, serving until 1993, when he was again replaced by Esquivel. In 1982, Price became a member of the United Kingdom's Privy Council.
In October 1996 he announced his resignation as party leader, and on November 10, 1996 was formally succeeded by Said Musa. In September 2000, Price became the first person to receive Belize's highest honour, the Order of National Hero, for the prominent role he played in leading his country to independence. He also received the Order Of The Caribbean Community and similar honours in other Caribbean and Latin American countries.
Official Chronology of Mr. George Price 1919 – 2011:
Right Honourable George Price, served as a Member of the Legislative Council from 1954-1961, The Legislative Assembly from 1961 to 1964, The House of Representatives from 1964-1984, First Minister from 1961 to 1964, Premier from 1964 to 1981 and Prime Minister of Belize from 1981 to 1984, and 1989 to 1993.
He was awarded the status of National Hero by the Government of Belize, the Jose Marti Award – Cuba's Highest Award by President Fidel Castro, and the Order of the Caribbean Community.
He is predeceased by his parents Mr. William Cadle Price and Mrs. Irene Cecelia Escalante Price, along with his brothers Mr. Samuel William Price and Doctor John Cecil Price and his sister Ms. Anna Cecilia Price.
He is survived by his seven sisters: Mrs. Lydia Mary Waight, Mrs. Jane Ellen Usher, Mrs. Alice Margaret Craig, Mrs. Josephine Delia Balderamos, Mrs. Irene Elizabeth Canton, Ms. Katharine Louise Price, and Ms. Judy Sybil Price along with a host of nieces and nephews and other extended family.
Personal Life
Mr. Price was an austure and humble man. His biographer Godfrey Smith wrote that "Scrutiny of the life of any remarkable leader is bound to reveal contradictions. Price's personal lifestyle perhaps threw up fewer contradictions. Like Jamaica's Michael Manley who used the more tropics-friendly Kariba suit, Price forsook the western style suit in favour of the guayabera. For the duration of his long career, he owned one suit that he used for international meetings and never abandoned the guayabera. Price lived his entire adult life in utter defiance of materialism, owning just a few items of clothing, the barest wooden furniture, and no appliances or stereo equipment; all he owned was a radio. Price is described as "father of the nation", "father of independence", "national hero", and "man of the people". He moved easily and confidently among the people without any bodyguards and could be seen walking to church every morning at 5:30 a.m. and picking up paper and bits of trash as he moved along the streets."
Eulogy To Rt. Hon. George Price
Born on January 15, 1919 in a family that would have constituted a full football team, George was the third of eleven children. His early schooling at Holy Redeemer and St. John's College in Belize and St. Augustine Minor Seminary in Mississippi, USA consolidated a Christian upbringing. When he miraculously survived when a wall of his boarding school nearly crashed on him during the 1931 Hurricane, his father was prophetic in his opinion that "George's life was spared for a higher calling". It seemed certain that this higher calling was to be associated with the completion of his studies in Theology at the University of Rome. But it was literally torpedoed by the intervention of World War II.
George Price was diverted to el Mayor Seminario Conciliar in Guatemala City, where after nine months he opted to return to Belize to be near to his family during his father's dying days. This divine intervention as it were, changed the trajectory of his life but not its impact.
George Price entered into politics in 1944. With three days of preparation, he lost his first election. In 1947 however, he was elected to the Belize City Council and from 1958 to 1962 he was the Mayor of that Capital.
In protest against the devaluation of the British Honduran dollar in 1949, a few citizens, George Price included, formed the People's Committee. Here was the start of the Peaceful, Constructive, Belizean Revolution. It was the forerunner of the Peoples United Party, officially established on September 29, 1950. Six Years later, George Price was elected Party Leader. After leading the PUP to unprecedented 9 out of 11 electoral victories, George Price stepped aside as party leader in 1996, passing the mantle of a strong cohesive political force to his successor Said Musa, who led the party to victory at the polls in 1998 and 2003. His current title of Leader Emeritus is neither far-fetched nor unjustified. It is merited as much for his political feats as for his colossus of integrity, adoration and respect from a nation united in its diversity: a leadership model.
In 1958, the British authorities attempted to erode Mr. Price's populism and popularity with charges of sedition. George Price, like the biblical David, fought back. The charges turned out to be a storm in a teacup, contributing further to his surging image and influence.
In the early 1960s, George Price advocated for moving the capital from Belize to Belmopan. He was viewed as a dreamer and a spoiler. Today, the City of Belmopan, protected from the vagaries of national disasters to which the rest of the country is exposed, not only houses the seat of government administrative offices, but is developing into a thriving city.
The Guatemala territorial claim has haunted his entire career. It severely tested his diplomatic options but not his hemispheric design. It is a measure of his political resilience that the claim gradually provided a cause for consolidating national building, and a source of bringing the people of Belize
closer to the people of the Caribbean. Ironically, it was the restructured Caribbean integration movement of independent states, which Price advocated since early 1950, that would, thirty years later, play a pivotal role in engineering the removal of the Guatemalan hurdle to Belize's eventual
independence and acquisition of membership in the United Nations in 1981.
Pre-occupation with external relations was a constant from the outset of George Price's political life. He envisioned an orientation to external entities that was much more complex than the colonial relationship with Britain and the regional relationship with the Anglophone Caribbean. Closer relationships with the United States, Mexico, and the Central American countries figured prominently as well in his calculations of the many-sided relationships that promised to increase Belize's economic development and geo-political options. In brief, Price conceived of a nationalist mould that was more hemispheric than simply post imperial in which the future of Belize was to be cast. He was seized – to a greater extent than most other Caribbean leaders of his time – of the potential importance of hemispheric relations. In a sense, he was ahead of his time.
George Price's attributes, including his personification of Belize's uniqueness in the Caribbean Basis as a meeting place of two distinct cultural worlds has reinforced Belize's claim to be the country best qualified to interpret either the Caribbean or the Central American sub-region for the other. Indeed, he changed a country, Belize, of which Adolph Huxley had said "If the world had two ends, Belize would have been one of them" from its backwardness to a stage where it is capable of performing a strategic role in the efforts of Central America and the Caribbean Community to expand and strengthen their relations.
Intertwined in his political quests is a soul that expresses itself in poetry and prose, equally committed to the cause of a self-reliant people. George Price's penchant for poetry reveals a spiritual and romantic side of which the latter in real terms always seemed to have been subsumed by the former. His inventory of poetry and plays is quite astonishing and would be worthwhile as an anthology, if only we could persuade his modesty to 'take a break'. It would no doubt begin or end with his charge to Belize to Unite and Build Our Nation, immortalized as an ode to Belizean independence.
A twist of fate delivered the political platform rather than the pulpit as his instrument for serving the people of Belize and the Region. His commitment to the principles of Christian democracy, nationalism and designs for a Region as an Oasis of peace remains unequivocal. For his outstanding contribution to the development of the Caribbean Region, the Caribbean Community conferred on the Hon. George Price the Order of the Caribbean Community (OCC). He became Belize's very first National Hero when he was presented the Order of Belize Award by Prime Minister Said Musa in 2000.
– Eulogy by Dr. John Waight
George Price Day Holiday
15 January is now a Public and Bank Holiday in Belize. The designation of this new George Price Day national holiday was announced on 30 December 2020 by the newly installed Peoples United Party Government. In an an interview with a U.S. journalist broadcast in Belize on 14 January 2021, it was noted that Mr. George Price is unmatched in the world as the only democratically leader whose career spanned 39 years. No other democratically elected leader is even close.
George Price On The World Stage
As the statesman the was George Price met and interacted with dozens of world leaders in his time during his quest for Belizean independence. U.S. President Carter was instrumental in helping pave the way for he U.S. State Department's decades-long policy of siding with Belize's arch enemy Guatemala.
Mr. Price cultivated friendship and support from Panama's General Omar Torrijos and Venezuelan president Carlos Andres Pérez to help break the traditional Latin American tradition of supporting Guatemala over Belize. In this he was reportedly assisted by noted novelist Graham Greene:
"Between 1975 and 1985 Greene continued to travel widely, visiting Panama, Belize, Costa Rica and Cuba. He twice acted as an intermediary in kidnappings in El Salvador, described in Getting to Know the General (1984), and became embroiled in Panamanian politics through his friendship with its charismatic dictator, General Omar Torrijos Herrera. Greene was a member of the official Panamanian delegation to Washington in 1977 when a Canal Zone treaty was ratified between President Carter and the General. He also sympathized with the Sandinista guerrillas in Nicaragua, splitting the royalties of Monsignor Quixote between them and the Spanish monastery of Osera. His autobiographical journalism, Getting to Know the General, recounts his intimacy with Torrijos and the latter's suspicious death in a plane crash in August 1981 (the year of Belize's independence).

"Greene was greatly impressed during a trip in 1978 to Belize when he met with its later prime minister, George Cadle Price, who lived humbly like a priest and became for Greene the projection of the ideal model for a dedicated and incorruptible Catholic socialist leader in South America. After almost five decades, Greene had finally found in Price a living expression of his dream for a unified socialist and Catholic guardianship of the rights of all citizens, both rich and poor." – Excerpted From Graham Greene Political Writer by Michael G. Brennan, Professor of Renaissance Studies, University of Leeds, UK.
Article updated 14 January 2021